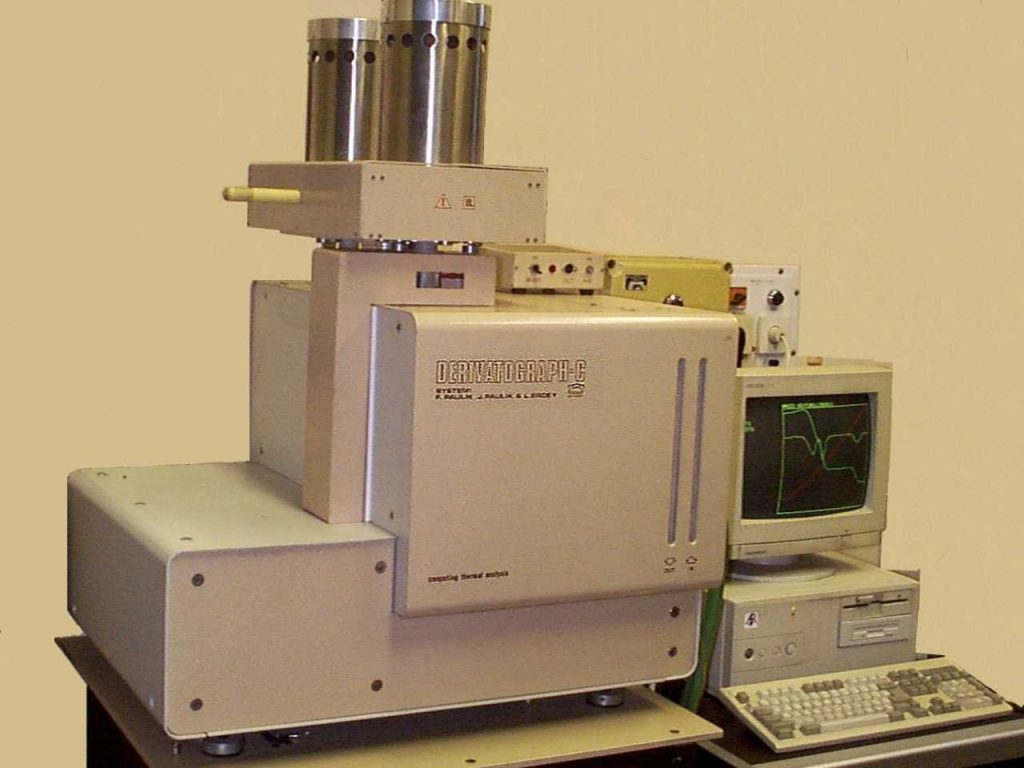 Thermoanaltical instrument controlled by PC
An instrument for the simultaneous determination of T, TG, DTG, DTA, with computerized heating regulation and data collection.
Data storing on hard disc or floppy, curve representation on colour display. Post-processing curve evaluation under DOS (or optionally under WINDOWS(r)), drawing curves and parameters on printer.
Heating possibilities:
linear
isothermal
quasi isothermal
timed quasi isothermal
Electronic balance with measuring possibility 0-8 g and 5 programmable sensitivities. All of the balance functions (arresting, desarresting, rough and fine taring, sensitivity regulation, internal weighing calibration) are controlled by the PC.
Other specifications
Furnaces: max. 1200 °C (heating element: Kanthal A)
max. 1600 °C (heating element: graphite in Argon)
Heating rates: between 0.5 and 20 °C/min programmable
Balance sensitivities: 5, 10, 20, 50, 100 mg
Crucibles: parallel Pt in 4 sizes (with cover)

conic Pt in 2 sizes (with cover)
parallel ceramic in 4 sizes (with cover)
labirinth Pt for quasi measures
Measuring possibility in inert gas athmosphere
Parts of the instrument
measuring unit with the balance and furnaces
heating regulator unit
standard desktop PC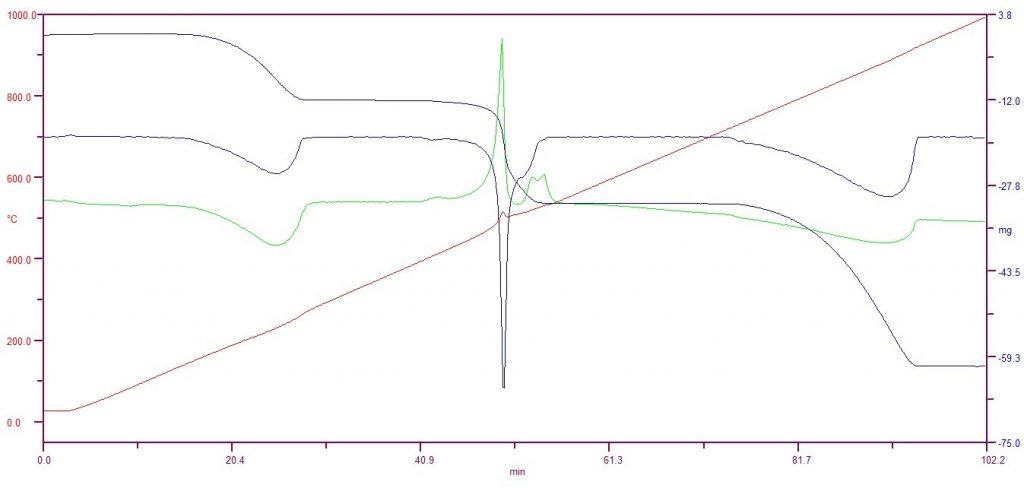 Modernisation pack
We produce self-developed "modernisation-pack " for MOM-made DERIVATOGRAPHs. Therefore if you are a DERIVATOGRAPH-C (type 3434) owner, we can form it anew to DERIVATOGRAPH-PC, in which the functions are controlled by a PC.
The most expediant solution, if you have an older, stable computer with 3 ISA connectors for interface cards, we will install it instead of original "microcomputer" for the control of Derivatograph.
Evaluation of measurements will be running on a new, faster up-to-date computer, with bigger RAM and WinXP, Win7, Win10 op.system, by WINDER evaluation software. You can transport the measured datas by floppy or pen-drive from one computer to the other.
Two separated machines will assure your system against viruses from outside, too.